The Story Of Mariner's Haven…
On August 28, 1983, heavy equipment rolled down Harbour Street and parked behind the Kaufman Furniture Factory and Kaufman Show House, ready to begin work the next day on what was to become Mariners Haven.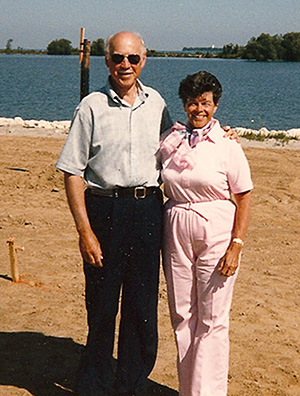 The developer of Mariners Haven, William (Bill) H. Kaufman, was a third generation businessman who, after the Second World War, ran Kaufman Furniture, in Collingwood. In 1979 several companies amalgamated to form William H. Kaufman Inc. Bill remained as Chairman of the board, but stepped down as President in 1986. He had already begun developing Mariners Haven.
Two berms, 320 metres each would be built into the harbour, with a gap at the east end to create a marina basin. On October 8, 1983 the water entrance was closed and pumps started to drain the basin. It would take 48 hours to remove 26 million gallons of water from the basin. The excavation of the basin and the building of the berms was completed on December 15, 1983.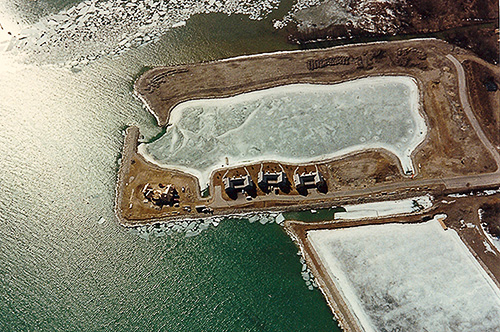 The huge boulders and the two wooden rudders that decorate our street and water entrances were taken from the basin floor.
The newly created land would now sit and settle for one year. Construction of the homes was to begin in the spring of 1985. Unfortunately, OMB hearings held up this construction for a year. The first 3 buildings (6 units) were started in April 1986 and first residents moved into their new homes in January 1987.
The project was constructed in three phases – Mariners Haven began as three condominium corporations in Mariners Haven from 1988 – 2015. Phase 1 (SCC 94) consisted of 12 units, Phase 2 (SCC 114) 10 units, and Phase 3 (SCC 144) 10 units. The last phase was completed in 1990. What was unusual was the location of the units within a corporation; they were not consecutive units – some were built for purchasers' location requests. Hence you had units that were physically side-by-side that belonged to different condo corporations and conversely there were units located on different berms that belonged to the same condo corporation.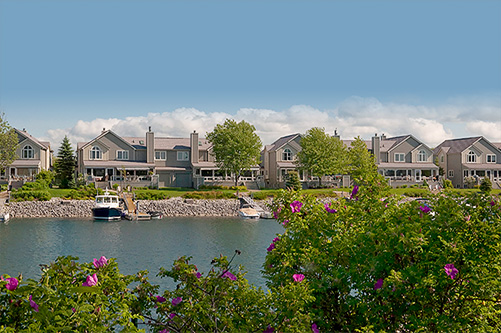 The three condominium corporations were amalgamated in 2015 to form Simcoe Condominium Plan 408.
The units are numbered starting on the north side. The first unit is number 3 and the last unit on the north side is number 12. This makes the pool and tennis courts numbers 13 and 14 – a concession to the superstitious.
Bill Kaufman built his estate at the far end of the north berm (Part 5 on the site plan). From here the water views, both harbour and Bay, are fabulous.
At the end of the south berm was an area known a Peggy's Park (Part 6 on the site plan), named after Bill Kaufman's wife.
After William H. Kaufman died in 2005 Peggy's Park was sold privately and now has a single home on it. These two private home share in the operating costs and reserve fund for the "Shared Facilities' (roads, tennis courts, pool, marina basin, garbage collection etc.)